This is a sponsored post written by me on behalf of Quaker Oats. All opinions are 100% mine.
Summer is here which means there's more opportunity to get outside and play! Better yet have playdate! Playdates is that they help kids learn to get along and the parents can also socialize and get a break as the children entertain themselves. If things go well, summer playdates are fun for everyone.



We recently had our first summer playdate and it was a blast! Here are 5 Tips to plan your next great summer playdate.
Keep the Numbers in Check
Two is good (including your own), three may be a crowd (one child may be left out), and four is on the verge of a party ( and more chaos). Know how much you can handle and be sure to confirm who will be watching over the kids. The older the kids are, the less involved you have to be. Under the age of 4, you may want to have at least 1 or 2 adults overseeing things.
Activities for Kids
It's important to have some options for the kids to do (otherwise they'll create options themselves i.e. making a mess). The options can be simple, have dance party, play with toys, or break out the  bubble machine for the whole family to enjoy. Our kids loved the bubble machine, they weren't kidding about the monsoon! Our dog loved it too. For the summer, you can focus on outdoor activities like drawing on the sidewalk with chalk, NERF ball, or playing bocce ball.
Be a Good Host
Have  your child put away one or two toys he doesn't want to share or may get easily broken. Everything else is fair game. If the other parent isn't staying, make it a point to get emergency-contact information. Ask if your guest has any food allergies or other health issues. For example, I knew that I was going to have Delicious Quaker® Chewy® Granola Bars as snacks, but I had to make sure the the other family wasn't allergic. Speaking of snacks…
Great Snacks
Be sure to feed everyone. It doesn't have to be a whole meal, but a great hassle-free grab-on-the-go snack such as Quaker® Chewy® Granola Bars. The bars are perfect as they provide fuel for families to help keep playing and having fun. Quaker® Chewy® Granola Bars contain 8 grams of whole grains in every bar and come in fun flavors like Chocolate Chip, S'mores and Oatmeal Raisin. My family and I personally loved the chocolate chip. As a working mom (who actually has a box of these at her desk), this is a snack that I can feel good about giving my family and that my kid loves to eat.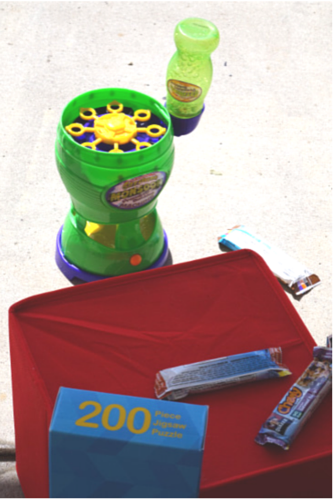 Be spontaneous!
Sometimes things don't always go according to plan. Boo-boos happen, argument breaks out, Perhaps the weather is poor. etc. Resolve things quickly and go with the flow. The parents attitudes will certainly reflect on the children so it's all about staying positive. If at all possible, End on a high note. if it the playdate ends while they're having fun, that's what everyone will remember. If all else fails, just reschedule! Just keep playing!!! There's also fun giveaways here at Quaker's Keep Playing Website
http://www.ChewyKeepPlaying.com
Enter to win a $25,000 Play Space Makeover!
To help inspire families' playtime together and fuel fun, Quaker is inviting parents to participate in it's Keep Playing! With Chewy promotion for a chance to win $25,000 to make over their family's play space. To enter, visit http://www.ChewyKeepPlaying.com and submit a photo of your family's favorite play space along with how you would like to see that space made over and why. From now through June 13, 2015, you can enter to win the grand prize, plus weekly chances to win a $500 gift card!
Win a Playdate Kit!
Quaker is providing the prizes for this program at no cost to me. This program is not administered or sponsored by Quaker or its affiliates, but solely by Sweep Tight. One lucky winner (US only) will receive a giveaway bundle valuing approximately $100:
A Chewy Playdate invitation pack to plan your next playdate
A classic Bocce Ball set for endless hours of outdoor summer play
A Gazillion Bubble Monsoon bubble machine–awesome for "dodge bubble"
Sidewalk chalk
A puzzle perfect for indoor or outdoor play
A red storage bin for storing all your family's favorite toys
A NERF Bash Ball
A variety of Chewy Granola Bars to help fuel family play, including Big Chewy Sweet & Salty Bars, and Chewy Granola Bars Variety Pack
Chewy Granola Bars may contain traces of peanuts and tree nuts. As a playdate host, please be sure to inform your guests in case of food allergies.