This is a sponsored post written by me on behalf of Nationwide Mutual Insurance Company. All opinions are 100% mine.
Nationwide provided me with information regarding its blog post. As a military family, we received the amazing opportunity live overseas for one of our duty stations. We were so excited to experience a new culture, meet new people, try new foods, and embark on a new adventure. In the midst of all the excitement, we also realized, "oh man, we're moving overseas, there's a lot of work and preparation that needs to be done."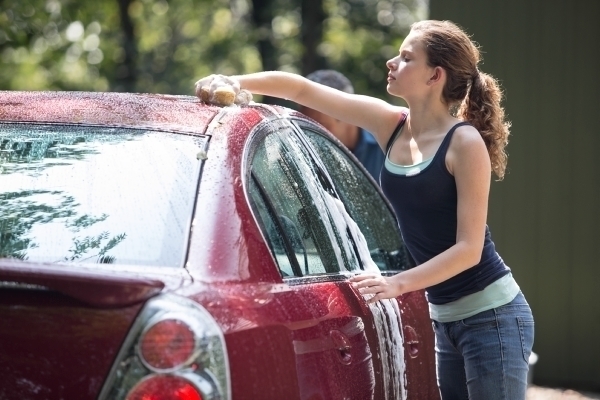 On our major to-do list was to get our home ready, get our finances ready, get our family ready, and get the cars ready. It didn't make financial sense to ship one of our cars overseas. Don't get me wrong, it wasn't a brand new car, but it was still in great working condition. That's when we made the decision to get it ready for resale.
Some military families might not know this but used cars are kind of a staple in overseas duty station. You'll find the used car resale lot or resale community much busier when compared to stateside resales. It makes complete sense. Why invest in a brand new vehicle overseas only to potential pay a higher price on it (due to local tax laws), and then pay to ship it back when you're only going to be there for a few years? Used cars for overseas temporary assignments just make sense. So knowing we wanted to buy a used car, I wanted to sell our current used car.
So before putting our car up for sale, I wanted to do as much research as possible to maximize our profit. I came upon Nationwide's blog and they pointed out some great tips for getting your car ready for resale.
A big factor is whether you're doing a private sale or trading it in. For the sake of the article, I'm going to focus on the tips for a private sale.
Some of the good tips I gleaned were:
Give it cosmetic appeal
-looks mean a lot
-perhaps consider getting the car detailed with a nice coat of wax
-shampoo or clean the interior whether it's fabric or leather
-Get your car ready for its closeup (photos, I mean)
-a personal tip, for private sales, definitely take pictures where's there's plenty of light, make sure the background is relatively empty and appealing and get photos of your vehicle from different angles.
Get the car smelling fresh
-the scent of the vehicle also has some impact on the potential buyer
-prepare the interior so there's no lingering odors or odd smells (get a third party to smell the inside of your car, you may be used to the smell therefore you don't notice anything)
-also try hanging a deodorizer with a mild scent such as lemon
Take care of the exterior
-A good detailing should take care of most marks
-consider give your headlights a shine
-personal tip, polish up the rims of your car so they're shiny again
The Nationwide blog post also goes into other tips such as taking care of what's under the hood and it goes more into depth about selling your car via a private transaction or trading it in at a dealership. If you're still up in the air between a private sale or a trade-in, definitely check out the Nationwide blog post: Prepping Your Ride for Resale: Used Car Selling Tips.